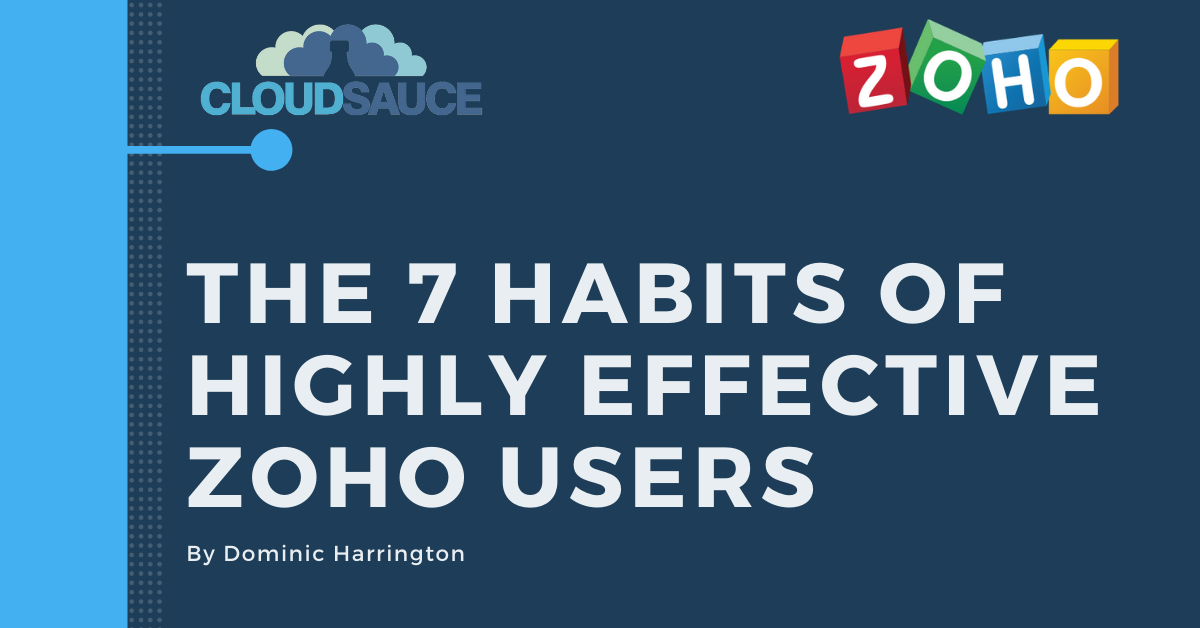 With over 50 million users worldwide, Zoho is without doubt one of the leading global CRM suppliers.
At Cloud Sauce, we've published three Apps on the Zoho Marketplace and helped over 300 businesses implement Zoho since 2015 and during this time it has been apparent that not all of these users experience the same success.
In broad terms we can break these users down into three groups: highly effective; effective and a third group that are mostly ineffective in their use and subsequent success with Zoho.Whilst we can train and retrain users on how the software works and best practice, what it all really boils down to is good habits that define which group a user will belong to from about month 6 onwards.

So whether you are a solopreneur or owner/manager of a small business with multiple users I have written this blog to help you (and your team) become more successful with Zoho.

The 7 habits of highly effective Zoho users

1) Good module design and layouts.

Less is more.

Don't have 30 fields in a module to complete 'just in case' then end up having only half of them completed on any record. Leaving empty fields in a record is a bad habit and will lead to key information not being captured.

One tool that will help with this is Layout Rules. For example, if a user selects the Lead Source of Customer Referral then we can create a layout rule to then show and make mandatory a Lookup of Contacts. This will force the user to select the name of the contact of the person that made the referral /or add them if they are not in. Layout rules used in the Leads and Deals modules will have a great impact on keeping forms simple yet effective and used properly.

Also, use Sections. These break the form down into smaller chunks – akin to paragraphs on a page of text. Ideally no more than 10-12 fields in a section makes it more user friendly and intuitive.

A final point on this topic – try and minimise module layouts. It is possible to have up to four and we have seen many clients create these where they are not really necessary. Layout rules and a new feature called Pipelines will help you tailor the existing layout without creating more.
SIGN-UP BELOW TO CLAIM YOUR FREE CUSTOM FUNCTION
2) Habitual note adding and task completion.
More notes & tasks = more sales.

Put simply, the more notes we add and tasks we complete, the more sales we make, the more customers we delight and retain – the more successful we are with Zoho and in our business.

Adding a simple note whenever we speak to a customer, colleague or partner – will give our team the ability to recall exactly what has happened/is to happen for every contact in our system. We don't need notes to be war and peace. Just a succinct reason for the communication, outcome and next steps. It's all user, date and time stamped so only takes a few seconds to do this.

Completing tasks takes a millisecond on the CRM. We can create tasks in three ways: manually for ourselves or a colleague or better still – the system will create them for us via a workflow (more about that later).

A user that habitually adds notes and completes tasks is following a process. They are not missing things, they are being proactive, they will succeed. I cannot state the importance of this habit enough.

3) Create workflows for each step of the lead qualification, sales and onboarding process.

Zoho workflow automation is a game-changer.

In 20 years in the software industry I've never experienced anything so powerful, yet intuitive and easy to achieve as the Workflows in Zoho.

In Zoho we can trigger a workflow mainly in one of three ways: when a record is created/edited; when a field is updated; on a date/time.

When a workflow is triggered it can perform a multitude of immediate actions and also many scheduled actions – but don't be put off by this, some of the most effective workflows have only one action.

These actions can include creating a task; sending an email (internally or to a client/supplier), updating fields or even passing data to a 3rd party system.

Admittedly this may seem daunting to a first time user but really don't be put off and as a bare minimum make sure that every Lead Status (Leads) and Deal Stage (Deals) triggers one or more workflows.

4) Limit reports & dashboards to only actionable metrics and the key performance indicators needed for your business.
How will you measure the success of your Zoho CRM?
The Reports and Analytics (charting tools) are great. We can create a dashboard with several dynamic charts within a few minutes – and we can report on every single field in the database and/or use them as filters.
Here is the problem. We create too many ; the focus is lost; the impact reduced and we are less effective with our reporting than we really could and should be.

So the most effective users share in common that they don't have too many reports. Instead we make sure that all of our reports are actionable and provide a measure of success of our key performance.

Another huge tip/habit is make all your reports based on the dynamic date filters that Zoho provides e.g. last month; last 3 months etc as they will automatically renew themselves and stay current.

5) Make best use of the home page.

Start the day on the front foot!

One of the simplest and most effective ways of starting the day well and on the front foot is by having the users 'Today's Tasks' displayed at the top of their home page. Let's face it: if everyone did everything that they should do every day then the business world would be a great place. Give ourselves a chance to achieve this with one simple component right at the top of every users' home page.

Underneath this you should have a selection of the key measures of success (see habit 4) and also a few custom views that provide that user with a summary of Leads, Deals or Customers that may need actioning that week based on the process (these are linked to Custom Views).

You can have up to 10 components on the home page for each user – be sure to use them and use them wisely.
6) Bridge gaps on functionality with custom deluge scripts.

Deluge. Zoho's proprietary scripting language.
Deluge is the language that Zoho is run on that makes all the magic happen.
One of Zoho's key strengths is the amount of customization we can do. The Enterprise edition will allow us to create up to 30 custom modules with up to 300 custom fields in each. All with zero programming skills – achieved with an intuitive drag and drop interface.
But there lies the rub……because of all this customization, Zoho does not understand how we wish to use and manipulate the data in these custom modules and fields and whilst it does an amazing job of pulling most of it together in workflows and templates we are sometimes left with some gaps in functionality that simply don't exist – YET!
Yet being the key word here, because Zoho have gifted us the Deluge language, we can create our own scripts, deploy them with a workflow and hey presto we have just extended the functionality to update and process our data the way we want to.
Using custom scripts with Deluge will extend the functionality and increase your effectiveness with Zoho.

7) Make use of the Zoho Marketplace.

The App Store for Zoho users

At the time of writing there currently almost 1000 extensions listed on marketplace.zoho.com.
Some are developed by Zoho but mostly by third party software companies and developers. All of them with one common purpose: To integrate Zoho with other applications, tools and services and make your Zoho users more effective.

If you have not browsed, installed or tried any of these extensions already – then you need to do this as it is a treasure trove awaiting discovery. If you have then we'd suggest checking out new or updated extensions on a monthly basis as it's really gathering momentum now – and as more API's are being developed this will just keep getting better and better over time. Of course some extensions will be more suited to your requirements than others – but one thing is for sure, you will never realise your true potential with Zoho CRM until you have one or more suitable extensions installed.
Summary
I hope you find this blog useful, please do take this information on-board, you will increase the value of your CRM investment massively if you develop all these habits described.

I'd love to hear your feedback, success stories or answer any questions you may have so please contact me at dominic@cloud-sauce.com – I personally reply to every one.

If you'd like to subscribe to the 7 habits of highly effective Zoho users blog please submit your email address below and we will send you a monthly email with exclusive content that will help you become more effective and successful with Zoho
SIGN-UP BELOW TO CLAIM YOUR FREE CUSTOM FUNCTION
A custom function that will take the grand total from your Quote and update the Deal Amount with the same. This will make sure that the value of Quotes/Deals keep in sync and you can be sure that the pipeline value reports are accurate.

We will send you the script with a video instruction explaining how to deploy in just a few short steps.