CRM Audit Tool is a FREE marketplace extension that will allow a user to instantly find out which data is missing from your CRM. In seconds, this tool will tell you if your database is healthy, or in critical condition.
Install Marketplace Extension
Once you have clicked on the link to install simply follow the on-screen prompts and agree to the terms of service then click Continue
Now Choose the Users/Profiles you wish to install and click Confirm
Once installed click on … from your main Zoho CRM menu and click on Audit Tool
A short video showing this process can be viewed at https://youtu.be/f5VRAAH8Cpo
Using the Audit Tool
Upon launching the tool you will see a menu towards the top left which will be defaulted to show the Leads module analysis.

Use this menu to see the analysis of the Leads, Accounts, Contacts and Deals modules.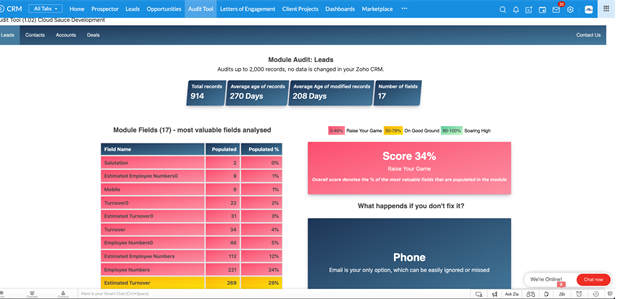 Beneath this menu In the middle of the screen is a summary of the number of records, average age, and a total number of fields assessed including the number of Duplicate records (Accounts and Contacts only).

On the left of the screen is the individual summary for each of the fields, showing the number of fields populated and then as a percentage of the total.

On the right of the screen is your overall total for the module – and also some insight into what the impact on your CRM experience will be if you don't fix it.
We hope you find this short guide useful, if you have any further questions please write to us at support@cloud-sauce.com