B2B Leads for for Zoho CRM powered by Red Flag Alert, is a new way to gather prospecting data on businesses which fit your ideal customer profile. This extension also offers a seamless connection with key decision makers via LinkedIn.
With access to data on over 6.5 million UK businesses, you can save valuable time when researching your prospects and customers, by automatically updating Zoho with the following information:
| | |
| --- | --- |
| Field | Description |
| Company | The name we have for this business |
| Company Number | The Companies House identification number for the company |
| RFA Rating | The Red Flag Alert credit rating currently assigned to this company |
| RFA Rating Description | The long description of this rating |
| Incorporation Date | The date of first registration of the Company at Companies House |
| Cash in Bank | The cash in bank as declared in the latest accounts |
| | |
| --- | --- |
| SIC Codes | Specific sic codes which this company is in |
| Net Worth (Assets-Liabilities) | The value of total tangible assets minus total outside liabilities. |
| Turnover | The last turnover figures filed at Companies House (if available) |
| Employees | The last employee count filed at Companies House (if available) |
| Credit Limit | The credit limit we have for this business |
| Company Phone | The telephone number we have for this business |
| Company Email | The email address we have for this business |
Install Marketplace Extension

​
Once you have clicked on the link to install simply follow the on-screen prompts and agree to the terms of service then click Continue
Now Choose the Users/Profiles you wish to install and click Confirm
Once installed you may return to the Home screen and start using the Extension now.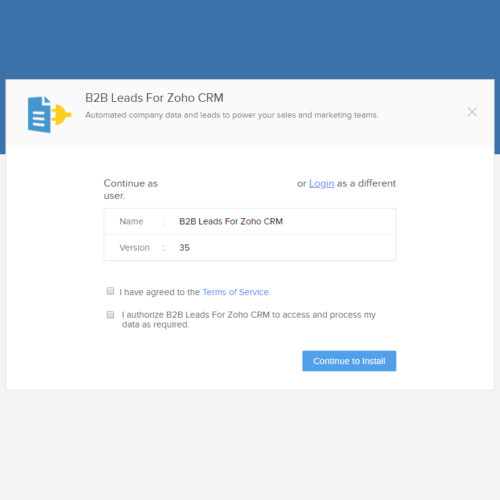 Using the B2b Leads for Zoho CRM Extension
Once you have installed the extension this will create a new module named 'Prospector'.
When you access the module you will be presented with a series of filters.
Be specific about which businesses you target. Searching for your ideal customer by location, sector, turnover, size, financial health and many other fields will help you drill down into the best lead.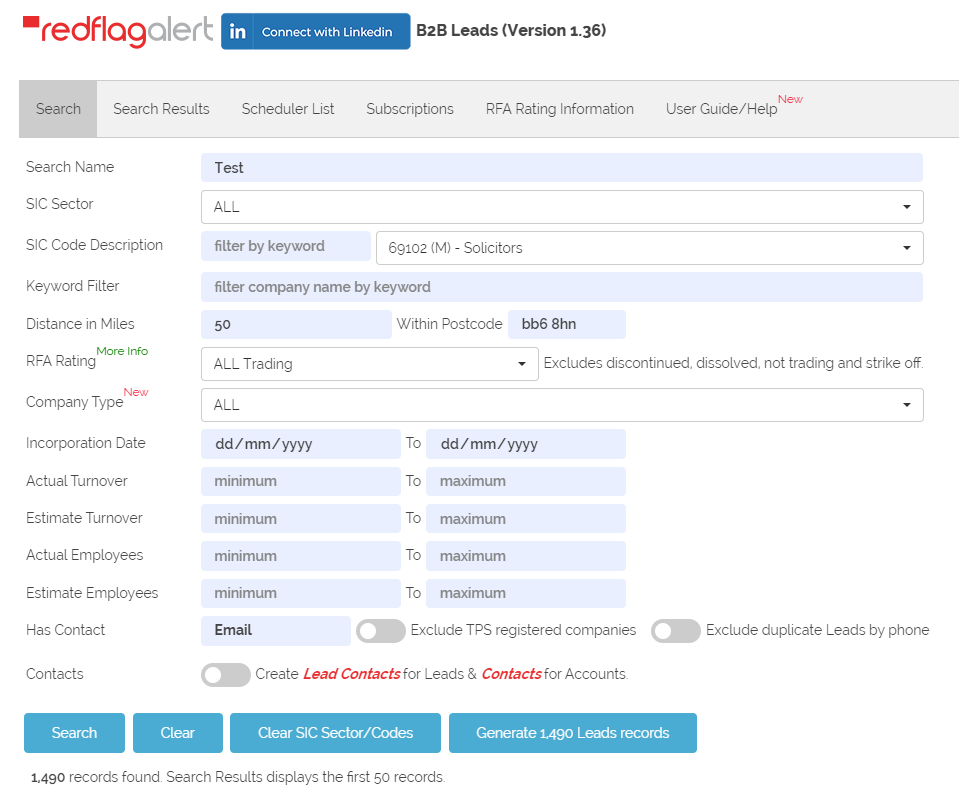 Give your search a name, select your preferred filters then click 'Search' and you will see how many records have been filtered.
If you wish to see a sample (the first 50 records) click 'Search Results'.
Once you are ready to create your leads, return to the Search tab and click the 'Generate x Leads records' button.

By clicking on the 'Scheduler List' you may view the progress of your leads as they are generated.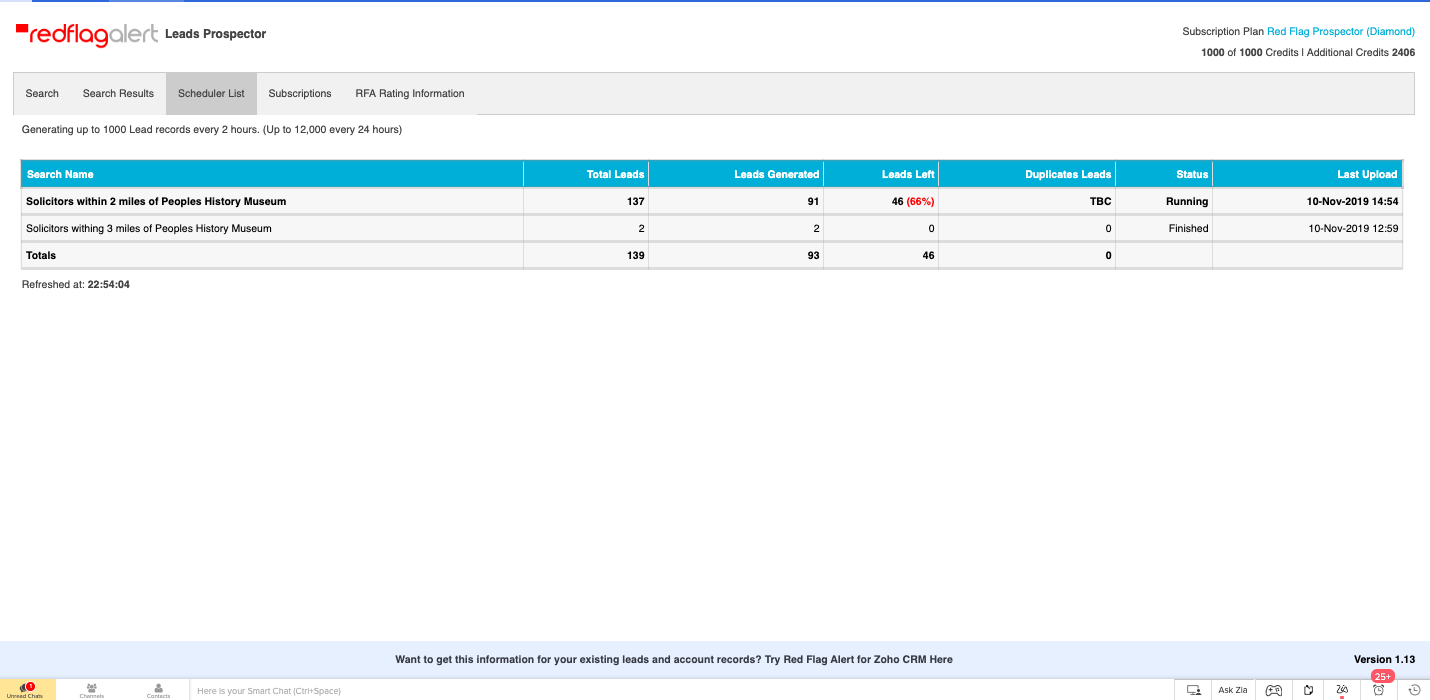 Now open the Leads module 'Recently Created Leads' or filter by 'Created Time'
( Today) and you will see the leads that have been created by the extension.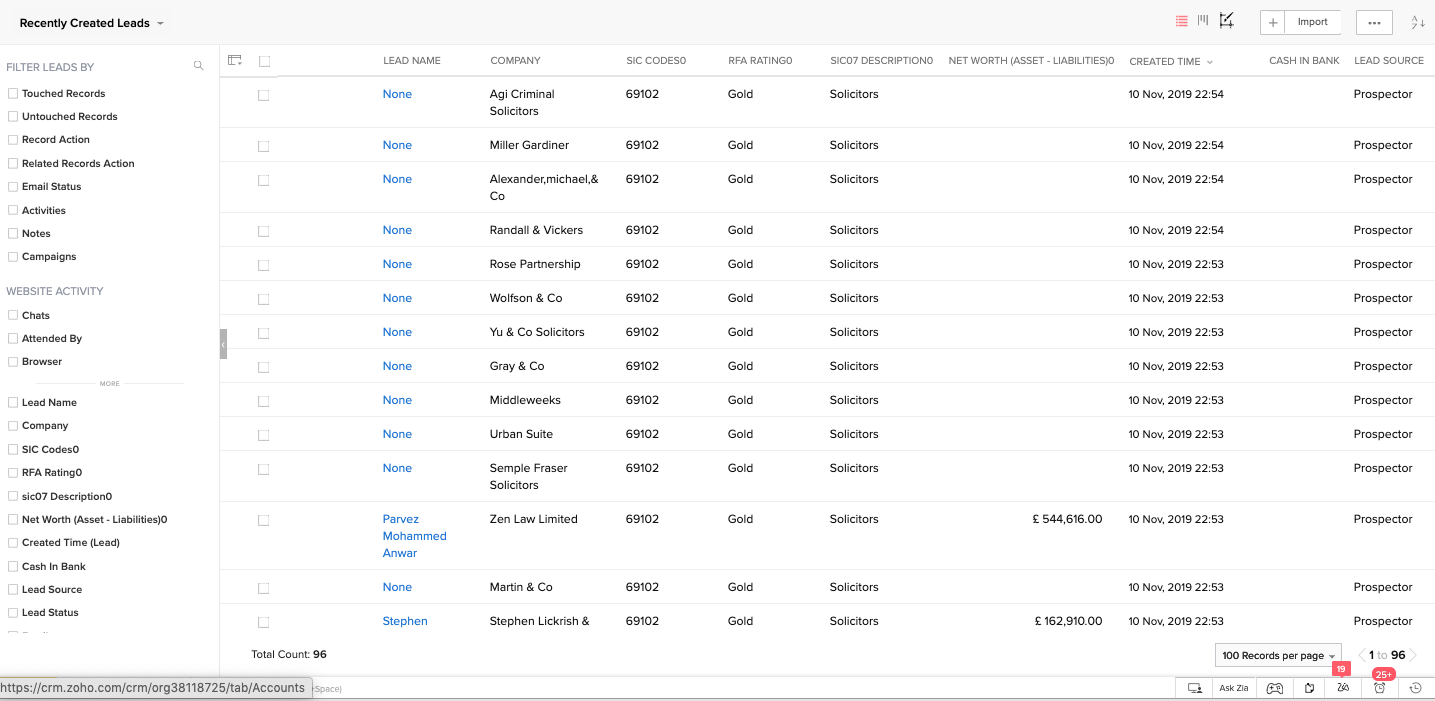 Upon opening a lead record you will now be presented with various critical elements of business intelligence on these leads.